NASHVILLE INVITATIONAL TOURNAMENT
Hornets, Knights win
Nashville drills Brentwood (MO.); Mater Dei holds off Granite City
01-16-2019
BY JACK BULLOCK
NASHVILLE – The Nashville Hornets took a few minutes to get going on Wednesday night in their opening game of their 37th annual Nashville Invitational Tournament.

However the Hornets' "smoldering warm up" soon turned into a "roaring fiery rage" as the Hornets romped to a lopsided 60-25 victory.



OKAWVILLE INVITATIONAL TOURNAMENT
Rockets rally past Gibault
Okawville, Madison post Tuesday victories; heading for Saturday night showdown


CARMI-WHITE COUNTY INVITATIONAL TOURNAMENT
CWC out-guns Harrisburg
Ethan Mahon hot start propels Bulldogs to 64-48 triumph
Fairfield, Mt. Carmel roll to opening night victories


WEST FRANKFORT "MID-WINTER CLASSIC"
Carterville edges Eagles
Downen hits last second shot, Lions win in OT, 67-65


GREATER EGYPTIAN CONFERENCE
Trojans pick up road win
Crab Orchard holds off Carrier Mills-Stonefort, improves to 12-6 with 54-45 triumph


NON-CONFERENCE
Murphysboro tames Bobcats
Big third quarter run gives Red Devils 59-41 triumph
01-05-2019
BY JACK BULLOCK
MOUNDS – For head coach Daryl Murphy getting a win on the road at Mounds Meridian on a Saturday afternoon was very important.

After coming off of a good win Friday night over Harrisburg, the Red Devils were a bit sluggish at the beginning of their matinee on Saturday, according to .....



BLACK DIAMOND CONFERENCE WEST
Blackcats roll past Vienna
Goreville never trails in 54-39 romp on the road
01-05-2019
BY JACK BULLOCK
VIENNA – Coaches, when talking about the beginning of games, like to use the phrase "punched them in the mouth" when describing a good start.

That is exactly what the Goreville Blackcats did, metaphorically speaking, to their Johnson County rivals Vienna on Saturday night.




38TH ANNUAL SESSER-VALIER HOLIDAY TOURNAMENT
Red Devils win title
Sesser-Valier edges Marissa-Coulterville, 57-54; first SVHT title in 18 years
Woodlawn, Goreville, Cobden post final day victories



38TH ANNUAL SESSER-VALIER HOLIDAY TOURNAMENT
S-V rolls past Tigers
Red Devils make the last run count, beat Thompsonville, 66-52
Marissa-Coulterville awaits S-V in title game showdown
12-28-2018
BY JACK BULLOCK
SESSER – With the game even at 44-all at the end of the third quarter, the Sesser-Valier Red Devils were looking for a difference maker heading to the fourth quarter to decide who would join Marissa-Coulterville in Saturday night's championship game of the 38th annual SVHT.
Six-foot-one junior Peyton Bates filled that role.



54TH ANNUAL ELDORADO HOLIDAY TOURNAMENT
NCOE shocks host Eagles
Sophomore Melton hits game winning shot, Cardinals advance 57-56
Top-seeds Fairfield, Massac, Herrin cruise into quarterfinals


38TH ANNUAL SESSER-VALIER HOLIDAY TOURNAMENT
Meteors struggle into quarterfinals
Cold shooting Marissa-Coulterville tops Waltonville, 55-40
Woodlawn, S-V, Thompsonville advance; Cobden upsets JC


54TH ANNUAL ELDORADO HOLIDAY TOURNAMENT
Mules look to "kick down" EHT door
Fairfield, Massac, Herrin, Gallatin County round out top seeds
12-25-2018
BY JACK BULLOCK
ELDORADO – Heading into the 54th annual Eldorado Holiday Tournament the defending champions, the host Eagles are the eighth-seed as they lost a lot of talented kids from a two-season run that produced the most wins in the school's storied history.

Head coach Josh Bradley guided his troops to a 54-7 mark, including .....



38TH ANNUAL SESSER-VALIER HOLIDAY TOURNAMENT
Cardinals, Red Devils lead loaded field
Top-seeds Woodlawn, S-V face tough challenges
Thompsonville, Marissa-Coulterville loom large in 16-team bracket
12-24-2018
BY JACK BULLOCK
SESSER – The 38th annual Sesser-Valier Holiday Tournament is shaping up as the most balanced in the events most recent history.

The folks at SVHS have put together a strong 1A field with a couple of 2A teams thrown in for good measure as the 16-team bracketed tournament is set for .....



DONGOLA CHRISTMAS TOURNAMENT
Egyptian tops Pope County
Pharaohs, Pirates, Rangers end up tied; Joppa wins tie-breaker for championship


NON-CONFERENCE
Warriors rally for OT win
Luke Richards hits two free throws to top Fairfield in battle of unbeatens


NON-CONFERENCE
Nokomis' early run dooms hosts
Redskins roll to 18-2 lead, hold Eagles at bey, 57-41
12-20-2018
BY JACK BULLOCK
ST. ELMO – The Nokomis Redskins picked up a non-conference road win at St. Elmo/Brownstown on Thursday night as they jumped out to a big early lead.

While in a perfect world Coach Steve Kimbro's squad would have cruised into high gear and won with ease, but in the 57-41 triumph they .....



NON-CONFERENCE
Wayne City edges NCOE
Indians recover from bad fourth quarter, win 40-36; Improve to 9-3
12-18-2018
BY JACK BULLOCK
WAYNE CITY – The Wayne City Indians were heading to a relatively easy double-digit victory on Tuesday night against visiting NCOE.

They led by as many as 13-points in the third quarter and a 3-point bomb by top scorer Travis Dickey gave the hosts' a 35-23 lead with 7:01 remaining in the fourth quarter.



IHSA Schools Approve Football Districting & 10 Other Proposals


IHSA Fall Classifications for 2019-20 and 2020-21
Changes effect several ABV area schools
12-17-2018
BLOOMINGTON - From the IHSA Press Release. IHSA Fall Classifications Posted For 2019-20 & 2020-21 Sports.
The first release of information about the IHSA's new two-year classification cycle, which was adopted by the IHSA Board of Directors in June 2018, has been posted. The classification cycle covers the next two school years: 2019-20 and 2020-21. During that period, classifications in multi-class sports and activities will not change.



65TH ANNUAL WAYNE CITY HOLIDAY TOURNAMENT
Red Hill captures title
Salukis' handle Hawks, 60-43; North Clay, Crab Orchard, Cisne post final day wins


59TH ANNUAL ST. ELMO HOLIDAY TOURNAMENT
Eagles edge Vandals
SE/B rallies past Vandalia to reach championship game; CH/BC tops Patoka
12-14-2018
BY JACK BULLOCK
ST. ELMO – The St. Elmo/Brownstown Eagles advanced to the title game of their own holiday tournament for the fourth consecutive year by rallying for a 66-65 win over a "stunned" Vandalia Vandals' club.

The visitors had everything going for them in the first half and were on .....



59TH ANNUAL ST. ELMO HOLIDAY TOURNAMENT
Aces advance to title game
Mulberry Grove beats top-seed Cumberland; Latham nets 20-points
12-13-2018
BY JACK BULLOCK
ST. ELMO – The Mulberry Grove Aces, despite an undefeated record, came into the 59th annual St. Elmo Holiday Tournament as just the fourth seed and head coach Andrew Beckham and his club believe that they deserved a higher ranking.

Not only were they searching for some respect coming into Thursday night's semifinal game against Cumberland, the Aces were also seeking a .....



65TH ANNUAL WAYNE CITY HOLIDAY TOURNAMENT
Red Hill, Wayne City win
Salukis handle Crab Orchard; Indians top Cisne
12-12-2018
BY JACK BULLOCK
WAYNE CITY – On Wednesday night at the Conrad Allen Wayne City Holiday Tournament the Red Hill Salukis didn't get their normal showing from leading scorer Drew Moore.

Moore came into the tournament averaging 17.6 points per outing but he got into foul trouble on the night and never got things going for himself, netting just six-points.


59TH ANNUAL ST. ELMO HOLIDAY TOURNAMENT
St. Elmo Tourney "Tips Off" Tuesday
Pirates, Vandals looking to steal title; host Eagles, Aces in the hunt


ABV COMMENTARY
AP Basketball Poll Continues To Be A Bad Joke


65TH ANNUAL WAYNE CITY HOLIDAY TOURNAMENT
Hawks handle Grayville
Gallatin County improves to 2-0 in the Pool B; Crab Orchard, North Clay post wins


NON-CONFERENCE
Hornets roll past Gibault
Nashville dominates every category, win 54-21; Parker nets 22 in victory
12-08-2018
BY JACK BULLOCK
NASHVILLE – After spending two weeks on the road playing tournament games and one regular season contest, the Nashville Hornets on Saturday night made their way back into their comfort zone; the Assembly Hall.

Coach Wayne Harre's club, the preseason ABV 2A top ranked team, had ....



65TH ANNUAL WAYNE CITY HOLIDAY TOURNAMENT
Holiday Tournament begins Saturday
Hawks, Salukis, lead solid field at Wayne City
12-08-2018
BY JACK BULLOCK
WAYNE CITY – The 65th annual Conrad Allen Wayne City Holiday Tournament has arrived.

Beginning on Saturday, December 8th eight teams in two pools of four will battle for a chance to take home the top trophy in one of the longest running boy's basketball events in the state's history.



NON-CONFERENCE
Granite City forces Eagle mistakes
Warriors take 60-50 road win at Columbia; Watson, Moore combine for 40-points
12-06-2018
BY JACK BULLOCK
COLUMBIA – Head coach Mark Sandstrom set up some severe tests for his team going into the 2018-19 season as he has in recent campaigns.

He ratcheted up the degree of difficulty of the Columbia Eagles' varsity schedule to help better prepare his club for potential 3A postseason matchups.



MIDLAND TRAIL CONFERENCE
Webber nabs big home win
Trojans rally past Odin, 48-46; Kaiden Taylor leads club with 17-points


CARLYLE "KASKASKIAN CLASSIC"
Pinckneyville wins tourney title
Panthers' second half run dooms Woodlawn; Hillsboro, Greenville, Freeburg win


GOREVILLE INVITATIONAL TOURNAMENT
Rangers "rattle" Hardin County
Early dominance takes away drama; 64-31; JC, host Blackcats also win


TRICO/MURPHYSBORO INVITATIONAL
Steeleville rolls past Red Bud
Warriors defense sets pace in 58-18 win; Sparta host Pioneers



ABV WEEK 1 HIGHLIGHTS
Tournament champs make early season statements
Unbeaten teams roar out of the gate; Highlight Week 1 of 2018-19


CHRISTOPHER "TURKEY" TOURNAMENT
Thompsonville dominates in title win
Tigers lead from start to finish in 53-33 championship game triumph


NON-CONFERENCE
Sesser-Valier tops West Frankfort
Winchester nets 36-points, passes 1,000 for his career in 81-65 triumph


CHRISTOPHER "TURKEY" TOURNAMENT
Christopher opens season with win
Garver, Pratt lead Bearcats to semifinals; Webber drops into consolation side
Wayne City advances past Waltonville


ABV Annual Preview - November 18, 2018
11-18-18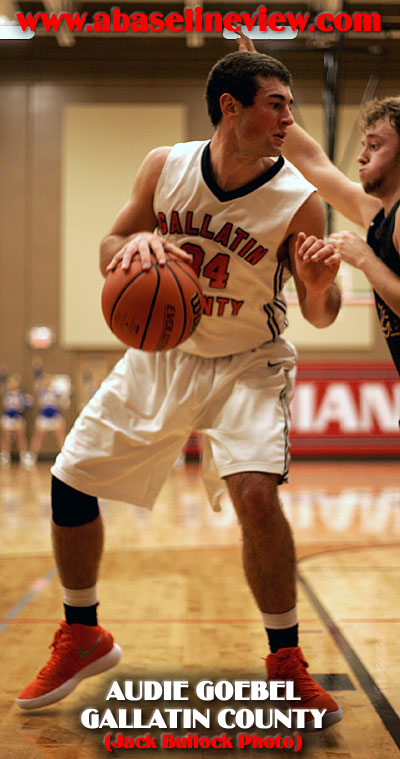 BY JACK BULLOCK
MT. VERNON - The ABV Preview for the 2018-19 is completed.

Well, nearly all of it.
The 3A conferences Mississippi Valley and South Seven are like an election.
Not all of the precincts have reported.
I have information from five of the MVC, and two of the South Seven.
A couple of more days won't hurt anything.
Many of the schools won't start for another few days anyway.
I have received information (most of it promptly) from nearly every school I contacted that I normally try to preview.
Some still refuse to participate.
I'm not going to rant this year about those (3) coaches. It is what it is.
I also added a few teams that came from coaches outside of the area that wanted to be a part of ABV.
My policy is "No Team Left Behind."
If you send the info, I will put something together.
There are some changes this season in the Rankings and you can read about it on the "RANKINGS" page by clicking on that link.
I have added a few northern schools to the process and some were very receptive to providing the information.
This season was much better all around in the gathering and the writing.
I hope it looks that way on the pages.
Ad sales were up this season, which is a good thing.
There are no pop up ads or click bait on my website. Just simple links to follow.
For those of you who are not familiar with my website, to find the different teams that are previewed you click on the link at the top and bottom of ALL of the pages on my website that is labeled "TEAMS."
You can then scroll down and find your favorite team by picking the conference affiliation.
Many of the teams are Independents or are in the conference that is out of the ABV area yet they still feed into one of the three postseason supersectionals in which ABV deals with.
All of those teams are in the link called "Southern Illinois Independents."
The Carbondale Supersectionals for both 1A and 2A along with the 1A Jacksonville Supersectional.
If you are a frequent follower of ABV, be sure to refresh pages to get the newest edition of the page.
If you are still seeing the older versions, it is probably because your old data and cache files need to be cleared from your browser.
Depending on which browser you use, this is generally a simple fix.
As with most years, there will be some mistakes made but most can also be fixed.
The rankings I do are my opinions of what I believe will happen during the year, culminating with the only tournament that really matters; the IHSA state tournament.
If I pick someone number #1, I believe that they are eventually going to end up at Carver Arena playing for a state championship.
If I didn't believe it, I wouldn't type it.
Anyway, this is season number #21 for me, four doing a newsletter, 17 on the web.
I hope you enjoy this edition of the ABV Preview.
See you at the Gym.
Jack