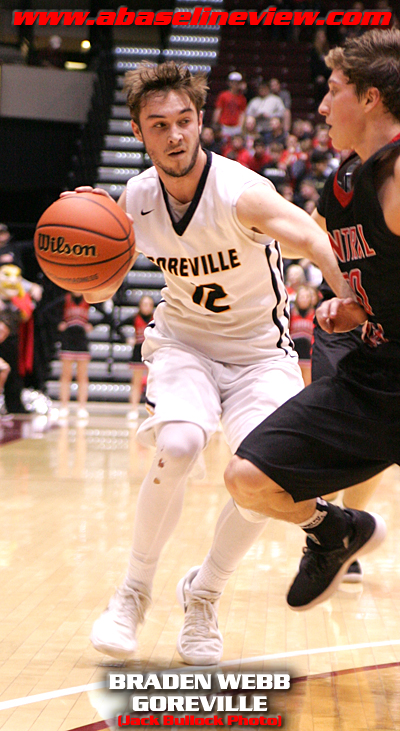 03-18-18
BY JACK BULLOCK
MT. VERNON - When looking at the contenders for the ABV "Player of the Year" and "Coach of the Year" in both 1A and 2A is very difficult to pick out a clear cut winner in each category.
You could make a case for many players and coaches, with few arguments against.
ABV has had some "no brainers" and some that had to take some serious thought and research.
The verdict is sometimes tough to come up with, but this "jury of one" made the choices.
For a kid like Braden Webb at Goreville, you could tell by watching him play that he wears his heart on his sleeve.
This 5-foot-11 senior guard has been sporting that Black and Yellow uniform in both basketball and baseball for four years as a prep and has excelled on the diamond and the hardwood.
Although he didn't have a great weekend at the 1A Final Four, due to illness, it was clear throughout the 2017-18 season that his Goreville club wasn't getting anywhere near Peoria without him leading the way.
For the season he finished with a 16.4 points per game average but his postseason performance was the main reason they got to Carver Arena.
He netted a game-high 29-points in the Blackcats 67-60 regional championship game victory over host Mounds Meridian.
Goreville trailed Webber Township 26-9 in the sectional at Hardin County before Webb and Company rallied.
Webb netted 23-points in the win and defensively he came up with a couple of key steals that turned into late baskets that made the difference as Goreville won their first ever boy's sectional game, 58-50.
He was the catalyst in the Blackcats 48-44 sectional championship win over rival Sesser-Valier.
Webb scored 13-points and he helped lead the Blackcats' defensive effort in the victory.
In the 74-60 1A supersectional triumph over Moweaqua Central A&M, Webb scored 14-points and snagged 11-rebounds to send Goreville to the final four.
Webb is now the school's all-time leading scorer with 2,104 total points.
He also has the school mark for most 3-pointers made with 232 and the single season record with 68 in 2017-18.
He was named Black Diamond Conference West Division Most Valuable Player as both a junior and a senior while also being all-league as a sophomore.
Webb was honorable mention AP All-State last winter while being choosen third team IBCA all-state.

He was first team in both in 2017-18.
Webb was all-tournament in all three of the Blackcats regular season tournament's this season; the Goreville Invitational, Sesser-Valier Holiday Tournament and the Massac County Superman Classic.
He has been a starter on two Goreville baseball squads that have finished first and third the past two seasons in Class 1A.