03-16-2019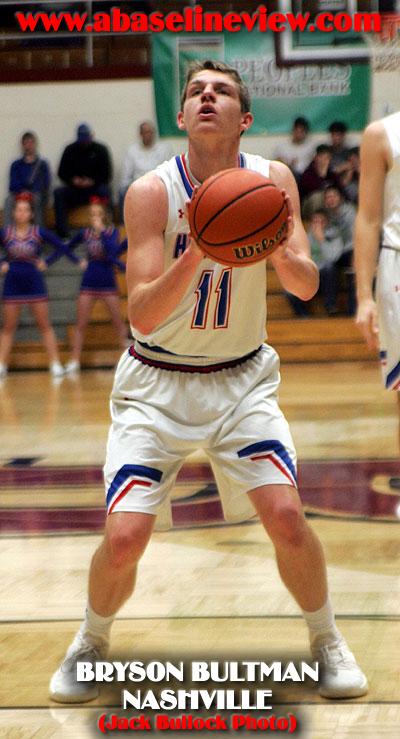 BY JACK BULLOCK
MT. VERNON – The ABV 2018-19 All-South Teams are complete.
Each year I put together a list of the top players in the different areas I cover.
However this year there was/is a bit of expansion in place.
At the beginning of the season I really needed to do some extra work.
The Illinois High School Association has a unique (nicely put) way of organizing the state tournaments in all four of the classes.
Geographically challenged is a better way of putting it.
With teams in the South going North and teams in the North going South, it is a bit confusing to say the least.
So, since the Metro-East St. Louis Area feeds North and West of southern Illinois in 1A while parts of Central Illinois directly North of my normal 1A Carbondale Supersectional come South, it was time to shake things up a bit.
I reached out to some coaches and sports writers from outside of my area (who's opinions I value) and started ranking and following the teams that feed into the Jacksonville Supersectional.
I was familiar with most of the schools up there from previous seasons of studying the state, so I felt pretty confident in my rankings for most of the year.
Since I ranked them I might as well thank them.
For the first time since the 2006-07 season (back when there were just two classes) I have included a list of the top players from the Jacksonville 1A area teams.
I bent the ear of a few of the ones I mentioned early that I trust, looked up some statistics and put together a list.
It will be just like the rest of the lists I have put together over the years; it will be scrutinized.
However I will, as always, stand by the decisions.
As for the Player of the Year and Coach of the Year awards; you could make a case for many potential winners.
I decided after the 2016 season that for my Coach of the Year award there will no longer be repeat winners, at least for now.
There are some that would, or could, be awarded this honor each year.
However I decided to honor as many as I can from now on.
When it comes to my First Team All-South and my Honorable Mention lists, I have always put emphasis on potential ties going to Seniors over underclassmen.
It's just how I roll.
Underclassmen will get other opportunities while seniors are done after that particular campaign.
Now that there is some groundwork and a precedent in place, this is what I came up with for 2018-19.
CARBONDALE 2A SUPERSECTIONAL PLAYER OF THE YEAR
BRYSON BULTMAN – NASHVILLE - SENIOR
The Hornets of 2018-19 broke a lot of records, including most wins in a season as they finished in second place in the state with a 35-3 final mark.
Six-foot-five senior Bultman was a big reason why they went as far as they did.
He received a lot of other honors this season; 1st team IBCA All-State, 2nd team AP All-State and now you can add the ABV 2A award to the resume.
Bultman averaged 14.6 points per game this season for the Hornets while grabbing 6.4 rebounds a game while adding nearly two assists a game.
He ended up his career at 1,323 points.
Unlike other state-wide lists where the writers put a premium on how many points are scored, ABV looks at the big picture.
Nashville's program has always been based on defense first as they had a scoring average this season of just over 50 points a game while giving up around 30.
That style of play doesn't lend itself to gaudy offensive numbers.
Bultman and Company beat teams on the defensive end of the floor.
Editor's Note: And before anyone in Washington County gets their underwear in a bunch, Carson Parker was also deserving of this award but ABV (as mentioned earlier) went with the senior.
The times that I have split the award previously, both of the winners were seniors.
Parker was named 1st team ABV which means he is part of an elite group.
In the 21 years of doing this award only Lucas O'Rear (2006 and 2007) won back-to-back.
Nashville has a shot of consecutive winners next season as the Hornets will once again be a force in the South.
CARBONDALE 1A SUPERSECTIONAL PLAYER OF THE YEAR
TYLER WINCHESTER – SESSER-VALIER - SENIOR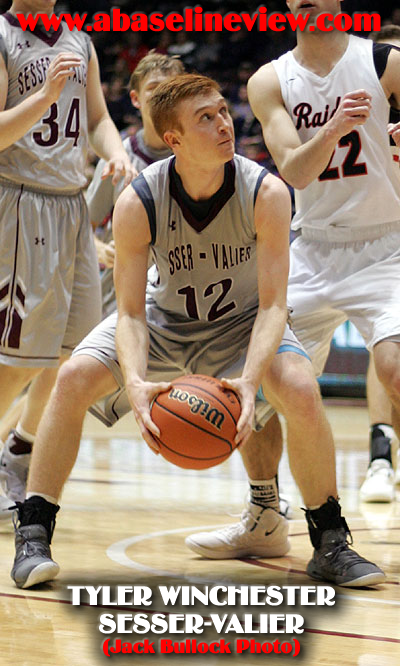 For the Deep South, the Red Devils have been on a pretty good recent run and Tyler Winchester has been a big part of the success.
The 6-foot-2 senior played on back-to-back regional champions and his team as a junior reached the sectional title game.
A few weeks ago Winchester and Company made their third "Elite Eight" appearance after beating Woodlawn to win the Gallatin County Sectional title.
It was the third such win in the boy's basketball history (2010, 2014).
Although the Red Devils fell to Central A&M in the supersectional at SIU, Winchester and his club put together a great run.
The numbers for the senior are 20.4 points a game (1,644 career) and 4.1 rebounds (464 career) along with 115 career assists.
He knocked down 219 3-pointers in his run at S-V and snagged 161 career steals (49 this season).
Considering, like most top scorers for teams, he was the focal point for opposing defenses in the past two seasons and he still did things that helped his team win while he wasn't scoring.
Winchester was also 1st team IBCA and 2nd team AP.
He is also a three-time ABV All-South pick, first team as a junior and senior and honorable mention as a sophomore.

JACKSONVILLE 1A SUPERSECTIONAL PLAYER OF THE YEAR
EMMITT GORDON III – MADISON – SENIOR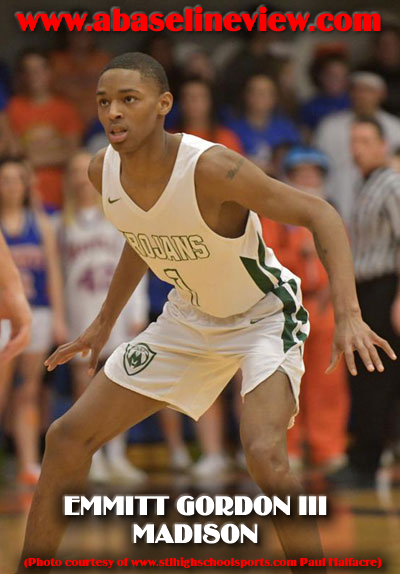 Emmitt Gordon III put up some very impressive numbers considering the competition that the Madison Trojans took on during the 2018-19 season.
Before they played in the postseason, Madison only had four games scheduled against 1A teams, one ended up being a no contest against Lovejoy and weather took care the other three.
Gordon, a 6-foot-3 senior guard/forward, averaged 19.4 points a game while playing mostly against 2A/3A and 4A teams as the Trojans ended up 19-13 with a loss to Okawville in the sectional final on the Rockets home floor.
He led the team with 7.7 rebounds a game and 4.5 assist per outing.
Gordon was a team leader and was 1st team AP All-State while getting snubbed by the IBCA.
Gordon produced seven double-doubles in points and rebounds during the year and he scored 27-points for his best scoring game against Riverview Gardens, a large school in St. Louis.
CARBONDALE 2A SUPERSECTIONAL
COACH OF THE YEAR
WAYNE HARRE – NASHVILLE
Head coach Wayne Harre now has the distinction of being one of only two head coaches in the history of the IHSA state tournament to take both a boy's team and a girl's team to a state championship game.
Coach Harre joins the late coach John Schneiter on this short list of excellence.
Schneiter won a state title at Stephen Decatur in 1962 and took Winnetka New Trier to the 1989 girls championship game.
Harre won the girl's title in 2013 and he and his Hornets reached the 2A title game this season before falling to now three-time defending champs Chicago Orr.
Behind his leadership, the Hornets stayed the course for the season.
Nashville lost just a pair of games in the regular season, to Tennessee power Briarcrest Christian Academy and conference rival Pinckneyville in back-to-back games in December and January.
After those losses, the Hornets rattled off 20 consecutive wins before the title game defeat.
They managed to handle their high ranking with both ABV and AP with class, something that shows leadership from the top down.
CARBONDALE 1A SUPERSECTIONAL COACH OF THE YEAR
PETE GORDON – THOMPSONVILLE
Coach Gordon got his team to a regional championship game, something that hasn't happened a lot in the history of this school and program.
It was only the third trip to a regional title game for Thompsonville and they have never taken home the hardware.
This season the Tigers broke a lot of records, going 30-3 for the season in shattering the mark for most wins in a season which was 26 from back in 1952-53.
More importantly Coach Gordon got everything he could out of his kids as they played up to their potential.
The 30 teams on the schedule that they should have beaten, they did.
They won two tournament championships; the Christopher Thanksgiving Tournament and a second consecutive Greater Egyptian Conference Tournament title.
They also won the outright GEC regular season title, also a first for the team.
Losses to Sesser-Valier and Woodlawn, who both ended up in the sectional championship game, doesn't diminish the accomplishments of this coach and players.
JACKSONVILLE 1A SUPERSECTIONAL COACH OF THE YEAR
JON KRAUS – OKAWVILLE
Coach Kraus has had some very good basketball teams over the years and last season's club won a state championship while 2016-17 was the state's runner up.
But when it comes to coaching, this was perhaps this mentor's best performance.
Having to replace some good players in the past two seasons, Coach Kraus rallied his troops to once again make a dash towards Peoria.
In fact the Rockets were just :09 from making another excursion to Carver Arena when a last second desperation shot by Concord Triopia forced overtime in the Jacksonville Super.
Okawville eventually lost the game as their season ended abruptly.
However Coach Kraus, with some young players gaining experience through a land mine of an independent schedule, had his team playing better as the season wore on.
By the time they got to February, the Rockets were on a mission.
They hit a last season shot to win the Marissa Regional in beating the host Meteors.
They won back-to-back games in beating state and ABV ranked Winchester West Central and Madison to win the Okawville 1A Sectional.
All things added up, Coach Kraus (as the good coaches do) got his team ready for the postseason.
The three mentors on this list deserve the hardware in 2018-19.