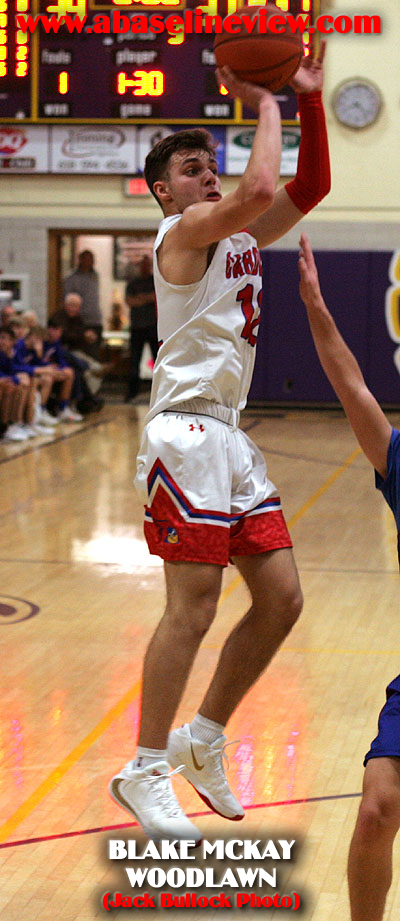 03-18-2020
BY JACK BULLOCK
MT. VERNON – Back in February before the Woodlawn at Sesser-Valier game I noticed that the Cardinals were getting ready to take the floor wearing shirts sponsored by local insurance agent Scott Owens.
So I walked up to Blake McKay, who was getting ready to lead his team out onto the floor and I said "So are you Blake from State Farm?"
It got a chuckle from everyone standing there.
But as I put things into perspective when looking at potential ABV 1A Deep South "Player of the Year" candidates, McKay was just like the slogan of that company.
For four years of varsity basketball (especially in 2019-20) "Like a good neighbor, Blake McKay was there."
McKay, a 6-foot-2 senior guard, is the 2019-20 ABV "POY" for 1A and with good reason.
The numbers stand out and his performances this season were some of the best in the state.
Before we get to the career numbers, just take a look at his postseason run in 2019-20.
Battling the flu in the regional tournament, he only managed 13 points in a narrow win over Norris City-Omaha-Enfield as Woodlawn survived with a 32-30 win.
He responded two days later with a 23 point showing in a 52-32 win over Wayne City to win the Edwards County 1A Regional.
But he saved some of his best work for what turned out to be his final two games of his prep career.
He scorched Cobden on Tuesday night at the Norris City-Omaha-Enfield 1A Sectional, netting 31 points in the Cardinals 57-43 triumph.
Then in what turned out to be his final high school game, McKay was once again brilliant as he nearly led his team to a comeback victory over Goreville.
The senior guard was nearly unstoppable, hitting for a game best 34 points.
His last second shot that would have tied the game rolled off of the rim in a heartbreaking 59-57 season and prep career ending loss.
His career began as a freshman as he was part of three regional championship teams and a sectional titlist.
McKay averaged 22.8 points a night (798 points in 35 games) along with 4.7 rebounds and 3.7 assists this season.
He ended this fine career with a four-year varsity total of 2,336 points, which puts him in the Top 50 scorers in the long, storied history of Illinois High School Basketball.
As with most great players, he did much more than just score.
McKay also ranks in the Top 10 on the school's career assists list with 354 and with steals with 233.
The senior leader also ripped down 531 rebounds in his career.
He is now a three-time first-team ABV pick, after having been listed after his sophomore and junior seasons.
McKay is signed and ready to be a Bearcat as he is headed to D-2 McKendree University.
"It's really hard to start and find the right words to describe what Blake has meant to me, the Woodlawn basketball program and the community of Woodlawn. I have dreaded this day for four years. The day when he is done. Blake is everything you would want in a high school athlete and, more importantly, a high school student. Blake has put in so much time and hard work to make himself a better player and to make our team better. Blake makes everyone around him better, his teammates and coaches. Blake is a relentless competitor which is why I think him and I had such a close relationship. I will never be able to thank Blake enough for the impact he had not only on me but our program. His leadership towards our younger kids will leave a lasting impact forever. Blake has earned every bit of the recognition he has received because he has done it the right way and worked tirelessly which is what you want when a kid receives the amount of awards and attention that Blake has received. I will always remember all the extra shots after practice and the conversations about the game of basketball," said Coach Gamber. "But the thing I will remember the most is our conversations about life and how he treats everyone with respect and humility. Blake has been a huge part of my life these past four years and has been like a son of mine. I would do anything for Blake and can not wait to watch him continue his career at the next level. Blake can be an example to all that if you work tirelessly and treat people the right way you can do big things with your life and there is no doubt he has huge things coming his way in the game of life. I will miss him tremendously."