31ST ANNUAL SOUTHERN ILLINOIS ALL-STAR GAME
All-Star Game Set for Sunday
31st annual Southern Illinois event at John A. Logan
04-09-18
BY JACK BULLOCK
CARTERVILLE – If you have all of your taxes done and have an itch for some high school basketball action this coming weekend, at John A. Logan College in Carterville you can have another look at some of the top senior basketball players in an All-Star Game.

Wendell Wheeler's 31st annual event will showcase some of the .....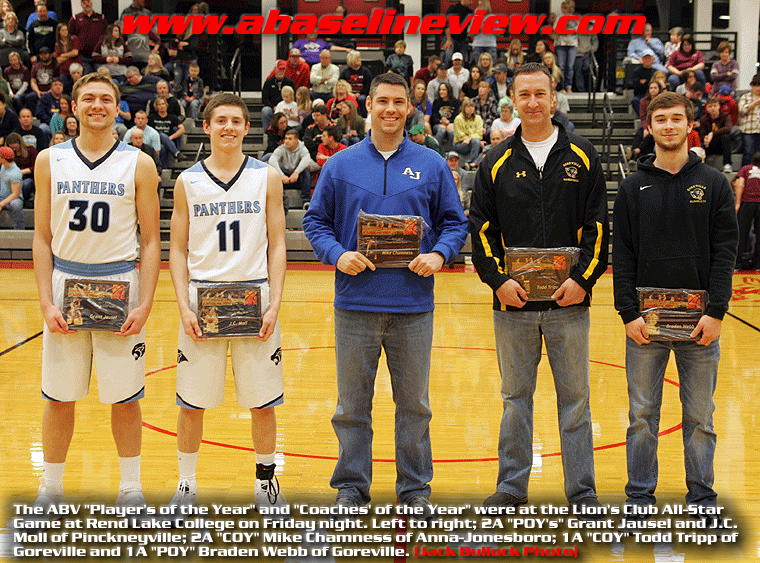 40TH ANNUAL LION'S CLUB ALL-STAR GAME
Purple, Gold clash at RLC
Top South players throw down Friday night



ABV 1A/2A ALL-SOUTH TEAMS - 2017-18
Webb, Moll, Jausel get the POY's
Coaches Tripp, Chamness deserve COY awards



2A STATE THIRD PLACE GAME - CARVER ARENA
Pinckneyville ends season with loss
Panthers fall behind early, lose to BCC, 69-61, finish fourth in 2A
03-10-18
BY JACK BULLOCK
PEORIA – Not being able to hit shots in the early going of their game against Bloomington Central Catholic, the Pinckneyville Panthers dug themselves a hole they couldn't get out of.
Despite a big second half rally, the Panthers dropped a 69-61 decision to the Saints in the 2A third place game Saturday night at Carver Arena.




1A STATE CHAMPIONSHIP - CARVER ARENA
Okawville wears 1A crown
Rockets' third quarter run propels team to first state title, 59-48
Goreville finishes fourth after 65-50 loss to Sterling Newman Catholic

03-10-18
BY JACK BULLOCK
PEORIA – For the Okawville Rockets boy's basketball program, the years of being close to winning a state championship led to many heartbreaking loses.

Reaching the state finals four different times with two second place finishes and a third place trophy sitting in the trophy case.




2A STATE SEMIFINALS - CARVER ARENA
Panthers' rally falls short
Winnebago tops Pinckneyville, 67-63; Morrissey scores 29 in win



1A STATE SEMIFINALS - CARVER ARENA
Rockets get second chance at title
Okawville tops Goreville, reaches state championship game



1A/2A CARBONDALE SUPERSECTIONALS
Cats head to Peoria
Panthers, Blackcats go North to represent the South



SIU CARBONDALE SUPERSECTIONAL PREVIEWS
Game time at SIU
Two contests, four teams, two winners will advance
Mount Carmel vs. Pinckneyville
Goreville vs. Central A&M
03-06-18
BY JACK BULLOCK
CARBONDALE - As the postseason rolls towards the ultimate goal of the "Final Four" in boy's high school basketball, four teams will hook up on Tuesday night at SIU Arena with a spot to play in Peoria on the line. The 1A and 2A southern Illinois representatives will be the survivors of the two supersectional games set.



1A HARDIN COUNTY SECTIONAL
Blackcats are SIU bound
Goreville blankets Sesser-Valier in second half, advances to "Elite Eight"



1A HARDIN COUNTY SECTIONAL
Sesser-Valier reaches sectional final
Red Devils close game on 16-4 run, will play Goreville Friday night



1A HARDIN COUNTY SECTIONAL
Goreville reaches sectional final
Webb leads Blackcats past Webber Township; 58-50



3A MT. VERNON REGIONAL
Mt. Vernon ends Tigers' season
Bad second quarter dooms Herrin in 63-42 defeat; Tigers finish 12-18
02-26-18
BY JACK BULLOCK
MT. VERNON – The Herrin Tigers entered their contest on Monday night against Mt. Vernon feeling pretty good about their chances to advance into the regional semifinals.

After all they had split two games with the Rams earlier in the season, including a 67-60 win at home on January 27.




ABV 2A SECTIONAL PREVIEWS
Robinson, Trenton-Wesclin hosting top teams
Sectional champs advance to SIU Arena next Tuesday night



1A PATOKA REGIONAL CHAMPIONSHIP GAME
Dieterich edges Eagles
Maroons win third consecutive regional title, 62-59



1A ZEIGLER-ROYALTON REGIONAL
Sesser-Valier, Woodlawn advance
Red Devils, Cardinals defensive efforts extend seasons



2A JOHNSTON CITY REGIONAL
A-J's Parr "shoots birdie"
Senior hits game winner with :03.1 left, club tops Redbirds, 59-57



1A NORRIS CITY-OMAHA-ENFIELD REGIONAL
NCOE advances past Bearcats
Cardinals out gun Galatia, 66-56; Wayne City wallops Grayville, 89-29



1A ABV REGIONAL PREVIEW
It's Showtime!!!
Three weeks to determine the state champs; games start Monday
02-19-18
BY JACK BULLOCK - Last season two of the ABV teams, the two that were perched on the top of the 1A ABV rankings for most of the season (Okawville and Effingham St. Anthony), met in the state championship game.

It was the first time since the 1972 Class A state title game, the first of the two-class system championship contests, that two southern Illinois .....




NON-CONFERENCE
Cairo escapes Woodlawn with win
Pilots pressure forces late Cardinal errors; rally ends with 81-73 victory
02-16-18
BY JACK BULLOCK
WOODLAWN – Not all games live up to the hype but Friday night's non-conference game between Cairo and Woodlawn provided the fans in attendance a peek at what could eventually be a sectional semifinal game.

The Pilots rallied behind defensive pressure in the fourth quarter, forcing .....




GREATER EGYPTIAN CONFERENCE
Hot shooting Hawks "light up" NCOE
Gallatin runs GEC table; Goebel nets 26-points, Hawks roll 74-52



NON-CONFERENCE
Harrisburg tames Lions
Bulldogs second quarter run puts Carterville away, 71-37



NON-CONFERENCE
Vandals romp past Crab Orchard
Vandalia never lets up, cruises to 93-55 win; 18-2 run removes doubt early
02-10-18
BY JACK BULLOCK
CRAB ORCHARD – One could break out all of the superlatives for Vandalia after their win over Crab Orchard on Saturday afternoon.

All of them would work as the Vandals made the long trek south to Williamson County and came away with an easy 93-55 triumph over the host Trojans.




BLACK DIAMOND CONFERENCE
Bulldogs pick up BDC road win
CWC hits big free throws late, down Foxes 48-41
02-09-18
BY JACK BULLOCK
MCLEANSBORO – Things weren't going well for the Carmi-White County Bulldogs this week heading into their Friday night game at Hamilton County.

They had dropped a heart-breaking decision to Eldorado at home on Tuesday night and then they were throttled at home on Thursday night by Fairfield, which .....




NON-CONFERENCE
Dieterich dominates senior night win
Maroons move to 19-6 with 74-57 victory over Flora
02-08-18
BY JACK BULLOCK
DIETERICH – With all of the hoopla surrounding their annual "Senior Night" it took the Dieterich Movin' Maroons a few minutes to get "Movin" in their home game against Flora on Thursday night.

However once the game got a few minutes old, Coach Josh Krumwiede saw .....




MIDLAND TRAIL CONFERENCE
Woodlawn wins MTC title
McKay nets 26, Cardinals roll past Wayne City; Finish 8-0 in league play
02-06-18
BY JACK BULLOCK
WAYNE CITY – On the wall coming out of the locker room at Notre Dame Stadium where the Fighting Irish football team takes the field, there is a sign that reads "Play Like A Champion Today."
When it comes to the Midland Trail Conference, that is how the Woodlawn Cardinals .....




SOUTHERN ILLINOIS RIVER-TO-RIVER CONFERENCE
Panthers survive scare
Jausel scores with :02 left in overtime; Pinckneyville edges Du Quoin
02-03-18
BY JACK BULLOCK
PINCKNEYVILLE – When teams are in a tight situation, especially late in the game, they always want the ball in the hands of their "go-to" guys.

With a possession in the final seconds of overtime on Saturday night at home with the game tied, the Pinckneyville Panthers two best play makers made the .....





GREATER EGYPTIAN CONFERENCE
Hawks edge Hardin County
Rushing hits game-winner with :02 left; Gallatin County wins 54-52
02-01-18
BY JACK BULLOCK
JUNCTION – In close games, like the one on Thursday night between two Greater Egyptian Conference foes with first place in the league on the line, sometimes it boils down to who has the ball last.

Gallatin County ended up with the final chance and Garrett Rushing got the job done.




BLACK DIAMOND CONFERENCE
Trico edges Bearcats in overtime
Vogt nails game-winning 3-pointer, Pioneers win 48-45
01-30-18
BY JACK BULLOCK
CAMPBELL HILL - Senior Ryan Vogt scored just seven-points in the Pioneers game against Christopher on Tuesday night.
But his final three-points were the most important ones of the game.
The 6-foot-4 forward, with the clock running down in overtime with the game tied, got himself open in the left corner near the Trico bench.




GREATER EGYPTIAN CONFERENCE TOURNAMENT
Thompsonville wears GEC crown
Tigers clamp down on Hardin County, shutting down the Cougars, 39-31



GREATER EGYPTIAN CONFERENCE TOURNAMENT
Carrier Mills, NCOE advance to consolation final
Wildcats outlast Pope County; Cardinals romp past Galatia
01-25-18
BY JACK BULLOCK
HARRISBURG – For a team searching for the second win of the season, the Carrier Mills Wildcats closed out the win like a team that had a lot more success this winter.

Getting the ball to 6-foot sophomore forward Darion Barners late in the contest was the right decision and they made the shots that got the Wildcats the win




GREATER EGYPTIAN CONFERENCE TOURNAMENT
Hardin County, Crab Orchard post victories
Cougars cruise past NCOE; Trojans edge Galatia
01-23-18
BY JACK BULLOCK
HARRISBURG – In their rally for a victory on Tuesday night, the Hardin County Cougars made two major adjustments in the second half of their game against Norris City-Omaha-Enfield that got them a victory and a spot in the semifinals on Friday night.
Head coach Rodney Lane saw his team fall behind early in the game because the Fighting Cardinals came out firing away from the 3-point arc and led the entire .....





MIDLAND TRAIL CONFERENCE TOURNAMENT
Woodlawn wins tourney title, again
Cardinals nail five 3's in second quarter run, top Indians 50-33
Odin takes third place, CORL nabs consolation title
01-22-18
BY JACK BULLOCK
WOODLAWN – The Woodlawn Cardinals joined the Midland Trail Conference for all sports at the beginning of the 2008-09 season as that league accepted the five former members of the now defunct Mid South Conference.
In the ten seasons in which the Cardinals have competed in the long running MTC tournament, they have now won nine of the boy's basketball tournament titles.




OKAWVILLE INVITATIONAL TOURNAMENT
Wesclin rallies past Rockets
Warriors make key plays late in title game win; Gibault tops DQ for third
01-20-18
BY JACK BULLOCK
OKAWVILLE - The Wesclin Warriors got the job done when the game was on the line on Saturday night in the title game of the Okawville Invitational Tournament.

Defensively they made the key stops in the final minutes and offensively they made the plays that resulted in photos being taken with a championship trophy.




BENTON INVITATIONAL TOURNAMENT
Meridian stuns Panthers
Bobcats deal Pinckneyville 68-66 2OT loss; Benton, Carlyle post wins



54TH ANNUAL SPARTA "MID-WINTER CLASSIC"
Marquette stays unbeaten
Explorers "map out" direct "route" in "rout" of Steeleville
Murphysboro, Freeburg post easy wins
01-18-18
BY JACK BULLOCK
SPARTA – In the early going of the opening contest Thursday night at the 54th annual Sparta "Mid-Winter Classic" the Alton Marquette Explorers were having some issues finding Steeleville's top scorer Owen Gross.

The junior guard got loose for some shots in the first quarter as the Warriors....




MIDLAND TRAIL CONFERENCE TOURNAMENT
Wayne City romps into MTC semifinals
Indians lead gate-to-wire, 56-29 over Waltonville; improve to 12-2 overall
01-17-18
BY JACK BULLOCK
WAYNE CITY – For head coach Jeff Morris and his Wayne City Indians, Wednesday night's makeup game in the Midland Trail Conference Tournament couldn't come soon enough.

After not playing in what seemed like and eternity, the Tribe finally got off of the practice court and into an actually game.




BENTON INVITATIONAL TOURNAMENT
Meridian, Pinckneyville, Benton post opening night wins
Bobcats claw Red Devils; Panthers pound Carlyle; Benton rolls past Ham Co.
01-16-18
BY JACK BULLOCK
BENTON – Mounds Meridian head coach Erik Griffin has been looking for his team to begin putting together longer stretches of good play since the 2017-18 season began.

On Tuesday night in the opening game of the 45th annual Benton Invitational Tournament, his Bobcats got off of the bus ready to play.




WEST FRANKFORT "MID-WINTER CLASSIC"
Pilots edge Marion
Cairo wins mistake filled game, 58-55; Taylor nets 29-points



NON-CONFERENCE
St. Anthony ends drought against BMD
Balanced scoring, defensive effort produces 57-47 win



56TH ANNUAL CHESTER INVITATIONAL TOURNAMENT
Cobden rallies to "knock" off Yellow Jackets
Big 15-2 run puts Appleknockers in championship game



BLACK DIAMOND CONFERENCE
Devils' second half dooms Goreville
Sesser-Valier rallies past Blackcats, 64-48; take BDC West command



Foxes' defense shines in road win
Hamiton County controls tempo, wins 46-28; NCOE falls to 2-11



SIRR OHIO DIVISION
Rangers edge Patriots
Benton improves to 13-2, 4-0 in SIRR Ohio, with 59-56 victory
01-05-18
BY JACK BULLOCK
BENTON - For head coach Ron Winemiller and his 2017-18 Benton Rangers, the beginning of the season has been one of the surprises in southern Illinois boy's basketball.
After graduating most of what turned out to be a record-breaking 31-3 squad from a year ago which produced the first ever SIRR Ohio Division championship in the .....




BLACK DIAMOND VS. SOUTH EGYPTIAN
Falcons fly past Z-R
Elverado improves to 9-8; win 58-44 at home
01-04-18
BY JACK BULLOCK
ELKVILLE – The Elverado Falcons were in desperate need of a win as they began the second half of their season at home on Thursday night.

After an 8-4 beginning to the season, the Falcons dropped four consecutive games at the Pinckneyville "Duster Thomas Hoops' Classic" last weekend.




GREATER EGYPTIAN CONFERENCE
Tigers continue winning ways
Darge comes up "large" with double-double; Thompsonville tops Galatia
01-02-18
BY JACK BULLOCK
GALATIA - Coming off of a consolation championship game win last week at the Sesser-Valier Holiday Tournament, head coach Pete Gordon saw his club come out with a great second half defensive effort in a 50-42 win.
Behind an outstanding 17-point, 13-rebound effort by 6-foot-7 junior Anthony Darge along with four blocked shots .....




PINCKNEYVILLE "DUSTER THOMAS HOOPS CLASSIC"
Rangers earn championship win
Benton "blankets" Wesclin; tops Warriors 41-28 behind Williams 16-points
12-30-17
BY JACK BULLOCK
PINCKNEYVILLE - Two very tired teams took the floor Saturday night in the title game of the 11th annual Duster Thomas Classic.

But as it turned out, the Benton Rangers had more gas left in the tank as Coach Ron Winemiller's club took home the championship with a 41-28 win over Trenton-Wesclin.



46TH ANNUAL VANDALIA HOLIDAY TOURNAMENT
Bulldogs "defend" tournament title
Effingham St. Anthony blankets Flora, 49-38, for second straight VHT championship
Host Vandals rally past Shelbyville for third, Pana takes fifth
12-29-17
BY JACK BULLOCK
VANDALIA – A person, most likely a coach somewhere years ago, was quoted as saying "defense wins championships."

This wise one couldn't have envisioned a better demonstration of that theory than the final 16 minutes of Friday night's title game between defending tournament champions Effingham St. Anthony and Flora.




46TH ANNUAL VANDALIA HOLIDAY TOURNAMENT
St. Anthony, Flora advance to title game
Bulldogs batter Vandals; Wolves edge Shelbyville; Both finish pool play 4-0
South Central wins two games; Pana, Patoka both pick up wins



37TH ANNUAL SESSER-VALIER HOLIDAY TOURNAMENT
Top-seed Woodlawn reaches final four
McKay rips Johnston City with 32-points; Cards improve to 8-3
Goreville, Christopher, Sesser-Valier round out championship semifinals
T'ville, Galatia, Odin, M-C advance in consolation bracket



37TH ANNUAL SESSER-VALIER HOLIDAY TOURNAMENT
Top seeds all advance
Host Red Devils romp past Waltonville; Goreville survives scare
Christopher tops Galatia, top-seed Woodlawn rolls
Steeleville, Johnston City, Cobden, Chester win



37TH ANNUAL SESSER-VALIER HOLIDAY TOURNAMENT
Woodlawn seeks eighth title
Top-seeded Cardinals face strong field
Goreville, Christopher, host Red Devils round out top four seeds
12-25-17
BY JACK BULLOCK
SESSER - The 37th annual Sesser-Valier Holiday Tournament shapes up to be a extremely competitive event with the top six seeded teams having a combined record of 37-19.
The Woodlawn Cardinals are the number one seed at the event, coming in with a 6-3 mark under head coach Brian Gamber.




46TH ANNUAL VANDALIA HOLIDAY TOURNAMENT
Bulldogs look to defend title
Top-seed St. Anthony will face worthy challengers
Shelbyville, Flora, Pana, host Vandals
12-25-17
BY JACK BULLOCK
VANDALIA - The 57th annual Vandalia Holiday Tournament has gone through some changes over the years but the bottom line is that there will be a champion crowned on Friday night December 29th that will be deserving.
Defending tournament champion Effingham St. Anthony is the prohibitive favorite to take the honors back to the North Side of town as they return a wealth of experienced .....




Indians top Galatia
Selby tosses in 27-points, Johnston City improves to 3-7 overall



Indians use two runs to top Webber
Du Quoin improves to 5-5 with 57-44 win over Trojans



CAHOKIA CONFERENCE
Eagles edge Carlyle
Columbia beats buzzer, Indians, 47-44; improve to 4-4 overall



64TH ANNUAL WAYNE CITY HOLIDAY TOURNAMENT
Webber wins WC title
Charles Neal's 25-point, 10-rebound effort leads Trojans championship win
O'Neal nets 16 for Wayne City; Gallatin Co., Crab Orchard, Cisne win on final day



64TH ANNUAL WAYNE CITY HOLIDAY TOURNAMENT
Indians move into title game
Wayne City overcomes mistakes, rallies for 48-41 OT win over Red Hill
Hosts will face Webber Township Saturday night
Louisville North Clay outlasts Cisne in 2OT
12-15-16
BY JACK BULLOCK
WAYNE CITY – Friday night's contest between Red Hill and the host Indians at the 64th annual Wayne City Holiday Tournament was a story that really wasn't worth writing home about.
But on this night, with the winner advancing to the title game on Saturday night, the final chapter of the saga was all that really mattered to Wayne City.




58TH ANNUAL ST. ELMO HOLIDAY TOURNAMENT
Pirates steal victory late
Magee nets 32-points, Cumberland rallies for 67-63 win over Aces
12-14-16
BY JACK BULLOCK
ST. ELMO – If the Cumberland Pirates performance on Thursday night was graded on a normal scale, a "B- or C+" would probably be the overall result.

Fortunately for head coach Justin Roedl, his top two players brought their "A" games to the contest, especially in the pivotal fourth quarter.




64TH ANNUAL WAYNE CITY HOLIDAY TOURNAMENT
Webber Township wins OT battle
Trojans rally past Gallatin County, 53-48 to reach title game
Red Hill, Wayne City also win to set up Friday night showdown



MIDLAND TRAIL CONFERENCE
Woodlawn "clamps down" on CORL
Cardinals force 18-turnovers, improve to 4-3 overall with 60-29 win



64TH ANNUAL WAYNE CITY HOLIDAY TOURNAMENT
Hawks romp past Cisne
Goebel leads Gallatin County to easy win with 21-points
Webber Township, Crab Orchard also roll at Wayne City



64TH ANNUAL WAYNE CITY HOLIDAY TOURNAMENT
Salukis' muscle past Crab Orchard
Defensive effort stymies Trojans, Red Hill starts tourney 1-0
Webber Township, Gallatin County, host Indians win on opening day
12-17-16
BY JACK BULLOCK
WAYNE CITY – Coming off of a tough conference road loss less than 24-hours earlier against rival Olney Richland, head coach Bryan Havill wanted his Red Hill team to forget about the loss and concentrate on the game against Crab Orchard at the Wayne City Holiday Tournament on Saturday afternoon.




1A NON-CONFERENCE
Rockets romp past Sesser-Valier
Okawville forces mistakes, dominates middle quarters in 58-35 road win



CAHOKIA CONFERENCE KASKASKIA DIVISION
Steeleville's defensive effort earns win
Warriors shut down Valmeyer, improve to 1-0 in Kaskaskia Division



GOREVILLE INVITATIONAL TOURNAMENT
Anna-Jonesboro wins title
Wildcats beat Hardin County, 69-41, 5-0 for the week
Ham Co. defeats Johnston City; Benton beats host Goreville on final night



DU QUOIN "TIP-OFF CLASSIC"
Pilots take bark out of Bulldogs
Cairo improves to 3-0 in the tournament, 54-38; CWC falls to 1-1
Du Quoin edges Sesser-Valier in nightcap






CARLYLE "KASKASKIAN CLASSIC"
Pinckneyville tops Midgets
Panthers roll to 87-48 win; Rockets edge Indians, 45-42
Okawville/Pinckneyville title game rematch set for Saturday



TRICO PIONEER INVITATIONAL TOURNAMENT
Harrisburg rolls past host Trico
Bulldogs win 64-41; Chester tops North Tech; Steeleville edges Sparta



GOREVILLE INVITATIONAL TOURNAMENT
Goreville romps past JC
Blackcats first quarter run sets tone in 83-54 win
Ham Co tops Hardin Co in opener; A-J stuns Benton, 67-65 in overtime



CHRISTOPHER TURKEY TOURNAMENT
Christopher takes tourney title
Host Bearcats outlast Webber Township, 66-60 in overtime
Wayne City, New Athens, Waltonville win on final day of 43rd Annual event



CRAB ORCHARD TURKEY TOURNAMENT
Crab Orchard wraps up turkey title
Trojans dominate Dongola, go 5-0 in tournament
Pope County, Elverado post final day victories
11-25-17
BY JACK BULLOCK
CRAB ORCHARD – Heading into the final day of the 19th Annual Crab Orchard Thanksgiving Tournament, the host Trojans had won 14-straight games in this event in taking home the last two tournament championships.

Win number 15 turned out to be an easy victory as they jumped out to a big ....




VIENNA "THE CLASSIC"
Eldorado stays unbeaten
Eagles dominate boards, force 25 Cobden turnovers, improve to 4-0



CHRISTOPHER THANKSGIVING TOURNAMENT
Bearcats top WC
Young nets 32-points, hosts advance; Indians fall to third place game
11-22-17
BY JACK BULLOCK
CHRISTOPHER – With 5:34 remaining in the fourth quarter of their semifinal game against Wayne City and clinging to a narrow 51-49, Christopher head coach Eric Stallman called a timeout after giving up a 5-0 run.

Coach Stallman posed a question to his team when he asked "What is it that we do well?"